Section B Welsh Ponies ~ Section D Welsh Cobs
P.O. Box 156, Herald, CA 95638
Phone: 209-748-2548 Cell: 916-849-3643 E-mail: info@goldhillswelsh.com
Proven. Success.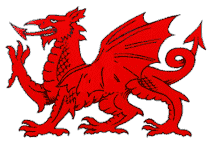 Order of the Dragon Breeder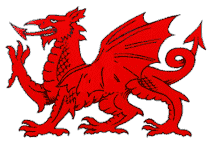 Gayfields Call the Cops
Individual LOM ~ Sire LOM
Individual AOE ~ Sire AOE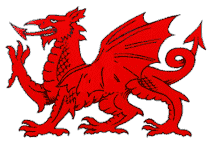 Individual Order of the Dragon ~ Sire Order of the Dragon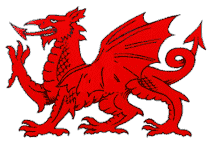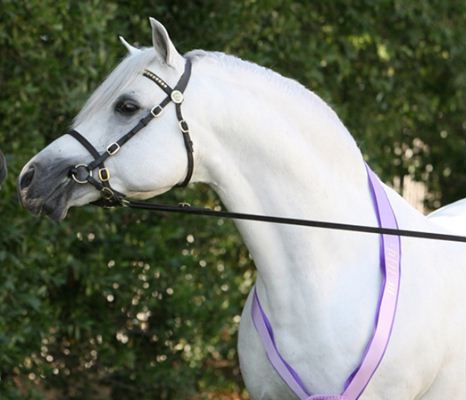 First Section B Stallion to earn an Individual Order of the Dragon, and the first of any section to earn an Individual OD as a result of individual and sire points.

2002 & 2006 Western National

Supreme Champion - Gayfields Call the Cops
Cops stands at stud to a limited book of mares.
Available Live Cover or Artificial Insemination
All Breeds Welcome
Stud Fee: $750, includes $250 booking fee
(Early Bird Discount - $700 if booked by 3/1)

For a Breeding Contract contact us
See Cops' Vital Statistics
Look close - Cops looks great from every angle!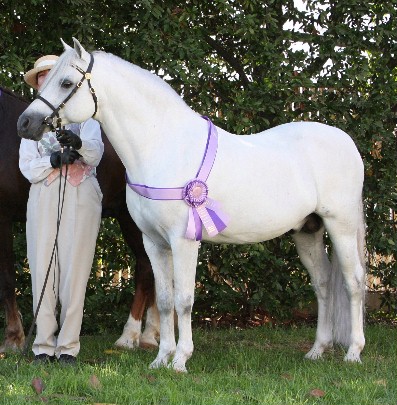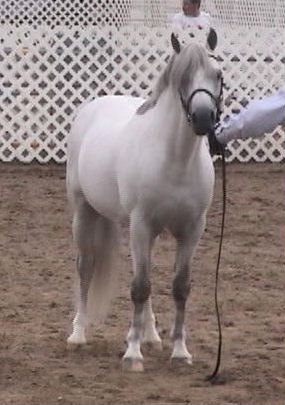 See more pictures and Cops spectacular 2006 show season!

PROVEN PEDIGREE ~ PROVEN PERFORMER ~ PROVEN PRODUCER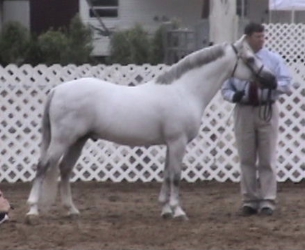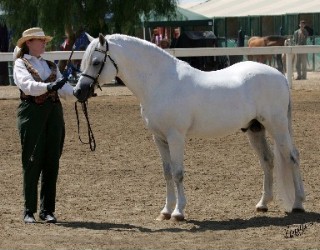 PEDIGREE: Cops comes from one of the elite families in the Welsh Pony world. He combines two of the most successful Welsh bloodlines in the US. Cops is one of three full siblings who have achieved their Individual Legion of Merit. Both his sire and dam have achieved outstanding success, earning both a Legion of Merit and Award of Excellence, and his sire has achieved multiple Order of the Dragon awards. Cops' damsire is a preeminent sire of hunter and performance ponies. Pedigrees just don't come any better.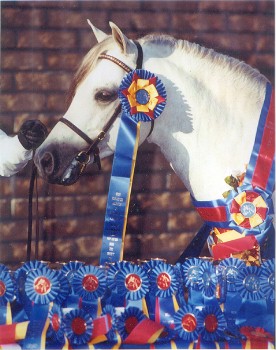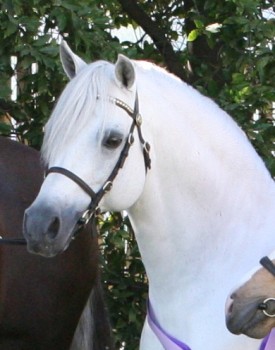 photos by Arthur Thomson and Carolyn Ray
PERFORMER: Cops' performance record is equally as impressive - Cops entered the show scene on the West Coast at age 4 and has done nothing but improve with age! He completed his own Individual Legion of Merit, a lifetime achievement award, based on both in-hand and performance results, at just 7 years old.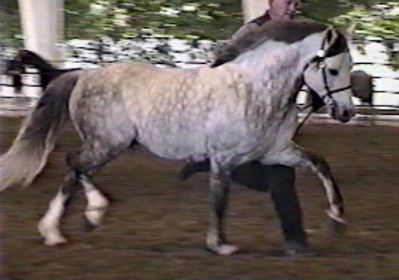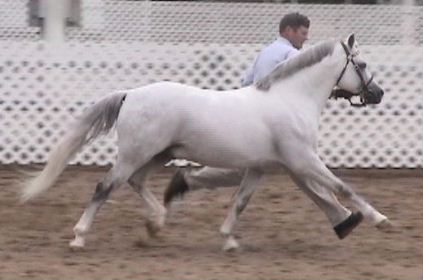 As a six year old, Cops was Reserve National Champion Section B Stallion, and topped the Pacific Coast High Point in English Pleasure, Western Pleasure and Pleasure Driving. He has won Supreme Championships up and down the West Coast, including the 2002 & 2006 Western National Supreme Champion.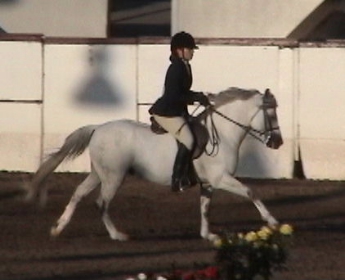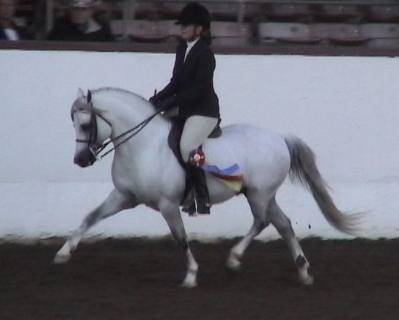 Cops has earned numerous National Championships in Pleasure Driving and Carriage Driving, both as a Single and in a Pair with his half sister, Gayfields Honolulu. After his impressive achievements in the Welsh ring, we gave Cops a new challenge - open competition in combined driving. Again, the results were super.
Cops and Honolulu won at some of the most prestigious events in the country and were long listed by the
USEF for the 2003 and 2004 World Pony Driving Championship Team!
Cops' performance record is unequaled.

Cops is a wonderfully correct mover, with impulsion from the rear, suspension, extension, and freedom in the shoulder.

Cops foals also exhibit correct, free movement.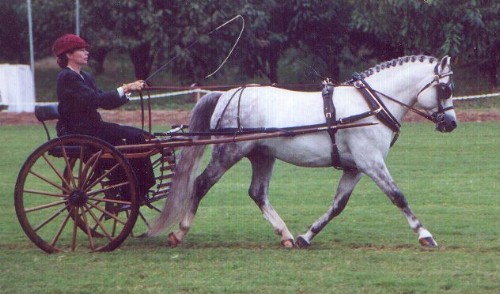 Adding to his resume in 2002, Cops was inspected and approved by the American Sport Pony Registry, taking his inspection site Championship with a fantastic score of 7.8 - the reserve championship was a tie between Cops' two sons!



photo by Arthur Thomson

PRODUCER: Cops' foals continue to prove his abilities as a sire. He has produced champions in the show ring, both Supreme Champions in hand, and performance champions. Cops' foals have outstanding dispositions, and are a delight to train. Cops' foals completed his Sire Legion of Merit in 2005, with six foals earning the required 300 points each. Cops' foals have gone on to excel in the Welsh ring, with 5 foals earning individual Legion of Merits of their own. Cops' foals have equaled a record that previously only Cops and his siblings have achieved - three full siblings earning Legion of Merit awards - Mystique, Most Wanted and Maverick taking those honors - then these three outstanding ponies went on to earn their individual Award of Excellence awards. Cops' sons are also proving their worth in the breeding shed, with both Goldhills Most Wanted and JG Cops and Robbers earning their own sire LOM, and Cops and Robbers son (Cops' grandson) Gayfields the Sleuth also earning a sire LOM.
Cops has proven he is not only a sire of champions, but also a Sire of Sires!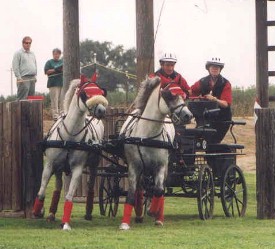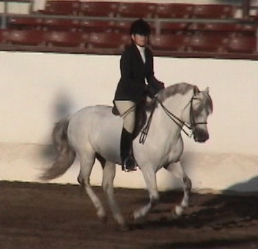 And now Cops' foals are proving his success as a sire of champion hunter ponies - for 2005 -2009 he is highly ranked on the USEF Leading Pony Hunter Sires and his daughter Macy Grey is the 2005 High Scoring Green Medium Hunter Pony and 2011 Medium Pony HOTY, with another daughter, Hands Up forth in the 2005 Medium Hunter Pony division.

To date, every one of Cops' foals that have been inspected with the ASPR have been awarded 1st Premium or Premier scores. Cops' foals have been Site Champion or Reserve at every inspection they have attended.
Cops is a proven SIRE from mares with a variety of bloodlines and types, both Welsh and other breeds.

Cops is a Welsh Stallion that has it all - Welsh type, movement, temperament, substance, size - and he does it all!

Always willing to do something new, Cops was started over fences in 2005 and had a great first show as a hunter pony! This success continued, with many hunter championships, including both the 2006 and 2007 Western National Hunter Championships!


Shown above with Legion of Merit winning son, Goldhills Most Wanted.

PROVEN PEDIGREE ~ PROVEN PERFORMER ~ PROVEN PRODUCER

Contact us for more information on breeding your mares to Cops.

See a few of Cops' Foals

See more pictures and Cops spectacular 2006 show season!
Pedigree:

Sire:
*Sleight of Hand LOM, AOE, OD
Mylncroft Spun Gold
Solway Master Bronze
Yaverland Spun Silk
Coed Coch Olwen
Coed Coch Berwynfa
Coed Coch Pelydrog
Dam:
Dixie Blue Duchess LOM, AOE
Findeln Blue Danube
GlanNant Limerick
*Waiten Blue Feathers
CC Dawn
Texas Mohican
HW Gwyndy Glo
Home || Stallions || Mares || Welsh Ponies & Cobs For Sale || In the Spotlight || Youngstock || Gallery

© 2003-2013 Goldhills Welsh - All Rights Reserved









~ Welsh Ponies ~ Welsh Cobs ~ Welsh Ponies ~ Welsh Cobs ~ Welsh Ponies ~ Welsh Cobs ~ Welsh Ponies ~