Section B Welsh Ponies ~ Section D Welsh Cobs
P.O. Box 156, Herald, CA 95638
Phone: 209-748-2548 E-mail: info@goldhillswelsh.com

Goldhills Diamond Lil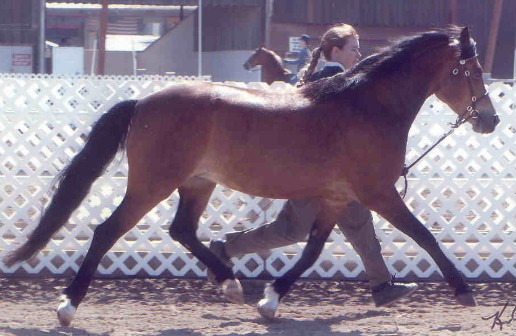 Diamond Lil started her show career at age 2, with a string of wins, culminating with the Pacific Coast High Point Section B Mare Champion, and Farmore overall Section B Championship. She also showed very successfully in Hunter Breeding classes, ending the year as the SAHJA Reserve Champion Hunter Breeding Pony.

In 1999 Diamond Lil came back to the show ring, after a year as a broodmare, and with junior rider, Jessie Lemeiux, she was WPCSA Res. National Champion in both the Short Stirrup and Junior Trail Divisions. Her accomplishments, helped to earn both her sire and her dam their Legion of Merit Awards. She has been earning a living as a walk-trot and short stirrup pony, and has taught several young riders. Diamond Lil is now joining the broodmare band, full time.

Diamond Lil is the dam of Goldhills Superstition, Goldhills WhoDunit, Goldhills Double Dare, and Goldhills Drop the Dough.



Pedigree:

Sire:
Farmore Publicity LOM
Talybont Quicksilver LOM
*Bowdell Buccaneer
Shenandoah Silverbelle
Welmore Grace
Welmore Jinx
Snowdon Graceful V
Dam:
Charjo's Gypsy LOM
*Wickenden Osprey
Coed Coch Berwynfa
Coed Coch Perfagl
Bluehill's School Girl
Kerr's School Boy
Criban's Lola Mae
Home || Stallions || Mares || Welsh Ponies & Cobs For Sale || In the Spotlight || Youngstock || Gallery

© 2004-2009 Goldhills Welsh - All Rights Reserved