Section B Welsh Ponies ~ Section D Welsh Cobs
P.O. Box 156, Herald, CA 95638
Phone: 209-748-2548 E-mail: info@goldhillswelsh.com

Foals of 2006

We are very excited about the 2006 foals which include several proven crosses and several exciting first time foals!

Goldhills Las Vegas
Palomino colt, foaled 3/8/2006

*Holyoake Copperfield x Gayfields Love Potion No. 9

This is our first foal from Melody's daughter, Potion. Potion is a proven producer and we are excited about this palomino boy, who is also Copperfield's first foal. This boy has lots of personality and at three days old already loves to play in the mud! He also like playing in puddles - yes, he did lay down!
Las Vegas is now owned by Mel Webster.

Goldhills Bonanza
Bay colt, foaled 3/19/2006

*Holyoake Copperfield x Goldhills Bright Reflection

This bay colt is such a cutie, so friendly and what a mover!
Bonanza is owned by Mindy Cavalleto.

Goldhills Baklava
Chestnut filly, foaled 4/13/2006

*Okeden Taffy x *Okeden Britannia
After 5 colts in a row - finally a filly!
We are thrilled to have this big girl - pictured at about 6 months.
Baklava is owned by Shannon and Ben Maurer.
Goldhills MakeBelieve Princess
Chestnut filly, foaled 4/13/2006

*Wedderlie Mardi Gras x Goldhills Mystique

Mystique's first foal ever and WOW is all we can say! She is all dressed up for the party, complete with the royal tiara!
"Tiara" is now owned by Carrie MacWhorter

Goldhills All That!
Grey (foaled palomino) colt, foaled 5/27/2006

"Louie" is the third foal of this cross and a 3/4 sibling to Goldhills Abracadabra. We are extremely pleased with this cross and with this colt!

Black colt, foaled 6/2/2006

Sydenham Solomon x *Sydenham Gardenia

This is a very exciting first for us - our first foal from frozen semen.
We have big plans for this boy! Pictured at 4 days old.
New photos are here!

Goldhills Double Dare
Grey (foaled bay) colt, foaled 7/10/2006 - for sale

This is a repeat of the cross that gave us Goldhills WhoDunit - our ASPR Premier foal and 2005 Res. National Foal Futurity Champion. HE's here - the vet who predicted a filly was wrong! Lovely bay, turing grey colt.
Elegant, uphill colt and a grand mover.
Goldhills MacGyver
Grey colt (foaled chestnut), foaled 8/26/2006 - for sale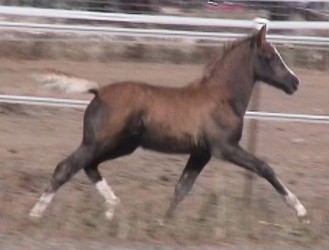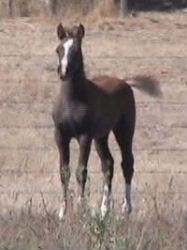 MacGyver is the eighth foal from this cross and proves that it continues to produce excellent foals! Grey foaled chestnut, with just the right amount of chrome, this boy will be a stunner in the show ring. Photos at 6 weeks.

Home || Stallions || Mares || Welsh Ponies & Cobs For Sale || In the Spotlight || Youngstock|| Gallery

© 2003 - 2009 Goldhills Welsh - All Rights Reserved











~ Welsh Ponies ~ Welsh Cobs ~ Welsh Ponies ~ Welsh Cobs ~ Welsh Ponies ~ Welsh Cobs ~ Welsh Ponies ~