Section B Welsh Ponies ~ Section D Welsh Cobs
P.O. Box 156, Herald, CA 95638
Phone: 209-748-2548 E-mail: info@goldhillswelsh.com

*Sydenham Gardenia LOM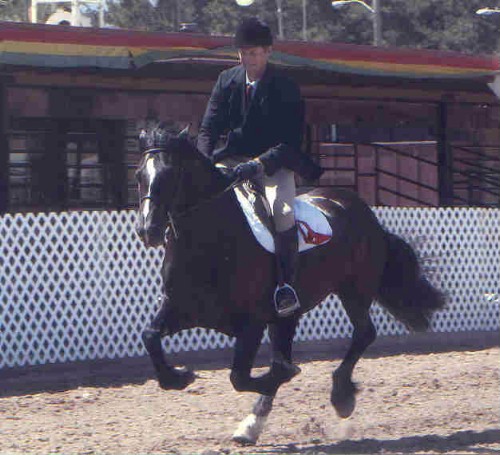 Gardenia has had quite a career. In 2003 at age 4 she brought home WPCSA National Championships in Section D Mares, C/D English Pleasure, C/D Pleasure Driving and Ridden Cobs!
In 2004 Gardenia raised a foal and went to one show - and she came home Ridden Champion and WPCSA Southwest Region Ridden Cob Champion!

In 2005 Gardenia came out to just two shows, winning the Carriage Driving Division, Ridden Cobs & Ridden Championship at both shows and finishing her Legion of Merit!
Gardenia is a Mom!! See her 2004 BLACK colt Goldhills Gin-n-Tonic here.
See Gardenia's video. She is in the pasture being a mom.
See her amazing 2006 BLACK COLT Goldhills Genesis here!
Another BLACK colt, Goldhills Gemini in 2007.
The streak ends with a fabulous chestnut filly, Goldhills Gingersnap in 2008!
Another Black Colt, Goldhills Ghirardelli Dark in 2010 and a Chestnut colt, Goldhills Gingerbred Man in 2012.
Pedigree:

Sire:
Llanarth Lloyd George
Llanarth True Briton
Nebo Black Magic
Llanarth Lady Valiant
Llanarth Sally
Llanarth Meredith Ap Braint
Llanarth Sian
Dam:
Navestock Princess
Nebo Prince
Nebo Daniel
Nebo Rosebud
Treweryll Penny
Hafrena Brenin
Frenni Pansy
Home || Stallions || Mares || Welsh Ponies & Cobs For Sale || In the Spotlight || Youngstock || Gallery

© 2003 - 2012 Goldhills Welsh - All Rights Reserved