Section B Welsh Ponies ~ Section D Welsh Cobs
P.O. Box 156, Herald, CA 95638
Phone: 209-748-2548 E-mail: info@goldhillswelsh.com

*Okeden Honeysuckle LOM/AOE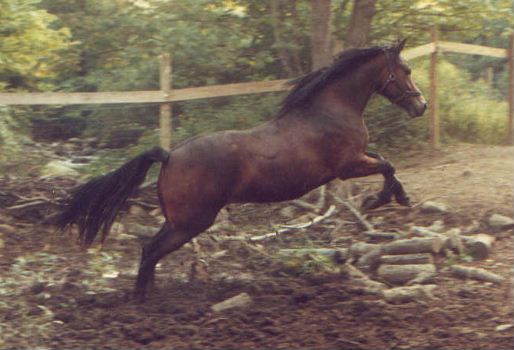 Honey started off life with a bang - winning fourth at the 1982 Royal Welsh Show as a foal.

Honey has been an outstanding producer at Goldhills, where she is has produced five fillies - Bit-O-Honey (Res. National Champion), Hanky Panky, (10 time National Champion) Hot Fudge, (National Champion) High Tea, (National Champion) and
Hot Mocha (National Champion) all sired by *Okeden Taffy.

Honey's offspring completed her Dam Legion of Merit in 2005 and her Dam Award of Honor in 2008!

In 2008 Honey's son Windcrest Desert Storm was named American National Supreme Champion!
Honey pictured below in 2000 in her only Western US show appearance, where she was Champion D Mare at age 17.

Honey's other foals include:
Windcrest Chloe'
Windcrest Dakkar
Windcrest Desert Storm
Windcrest Devin
Windcrest White Diamonds
Knightwynds Obsession
Knightwynds Flying Finish

All three of Honey's colts are successful stallions.
Pedigree:

Sire:
Llanarth Meredith Ap Braint
Llanarth Braint
Llanarth Goldcrest
Llanarth Kilda
Rhosfarch Morwena
Pentre Eiddwen Comet
Rhosfarch Maid
Dam:
Arth Maid of Honor
Llanarth Rhodri
Llanarth Meteor
Llanarth Rachel
Meiarth Modern Maid
Brenin Gwalia
Meiarth Welsh Maid
Home || Stallions || Mares || Welsh Ponies & Cobs For Sale || In the Spotlight || Youngstock || Gallery

© 2003 - 2009 Goldhills Welsh - All Rights Reserved





~ Welsh Ponies ~ Welsh Cobs ~ Welsh Ponies ~ Welsh Cobs ~ Welsh Ponies ~ Welsh Cobs ~ Welsh Ponies ~